Trust Wallet is crypto wallet. You can send, receive and store Bitcoin and many other cryptocurrencies including NFTs safely and securely with the Trust Wallet mobile app.
You can even use Trust Wallet to earn interest on your crypto, play blockchain games, collect NFTs and access the latest DApps and DeFi platforms.
Trust Wallet is a fast and secure multi crypto wallet with Binance DEX support, designed for ease of use and perfect for storing your different crypto assets.
Whether you are looking for an Ethereum wallet or Bitcoin wallet, Trust provides a secure system that makes it simple to buy and store multiple cryptocurrencies such as Bitcoin, Ethereum, Tron, Litecoin, NFTs and many other ERC20, BEP20 and ERC721 tokens on your device. In recent app updates, we have added XRP wallet support, XLM wallet support, FIL wallet support and EGLD wallet support, NFT wallet support.
Trust Wallet is designed to be the best crypto wallet app by providing a safe and secure experience for our users:
Investing in crypto is simple – buying Bitcoin and cryptocurrencies can easily be done directly from Trust Wallet, offering you a safe and quick service with capabilities to connect with decentralized exchanges to help manage your crypto portfolio.
Creating a New Wallet
The steps for creating your first Multi-Coin Wallet is very simple and can be done in a matter of minutes. Let me guide you through the process.
Here are the download links for both platforms:
App Store: https://apps.apple.com/app/trust-ethereum-wallet/id1288339409
Google Play: https://play.google.com/store/apps/details?id=com.wallet.crypto.trustapp
1. Launch Trust Wallet
Upon the first launch of the app, you will be presented with the screen below which is the part where you can "Create a New Wallet" or "Import" an existing one. For this guide, we will select on Create a New Wallet.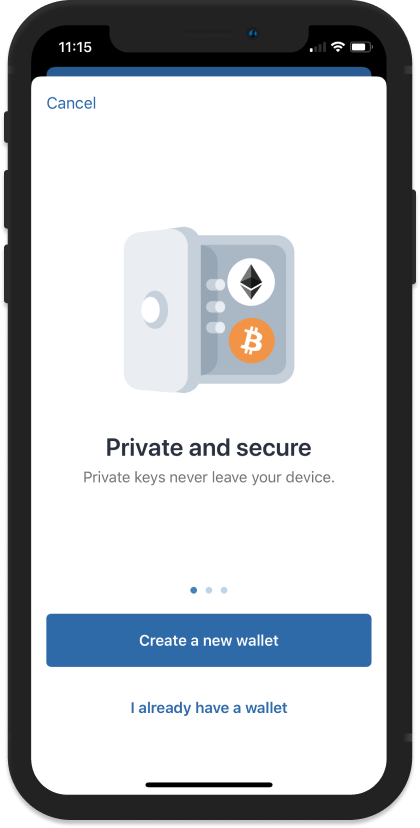 2. Accept Terms of Usage
In order to proceed, you would need to accept the Terms of Usage. Simply put a checkmark at the box then press Continue. No turning back now.
Warning!
If you agree to to the terms of usage please be aware that, losing your recovery phrases will also mean that you lose access to your wallet.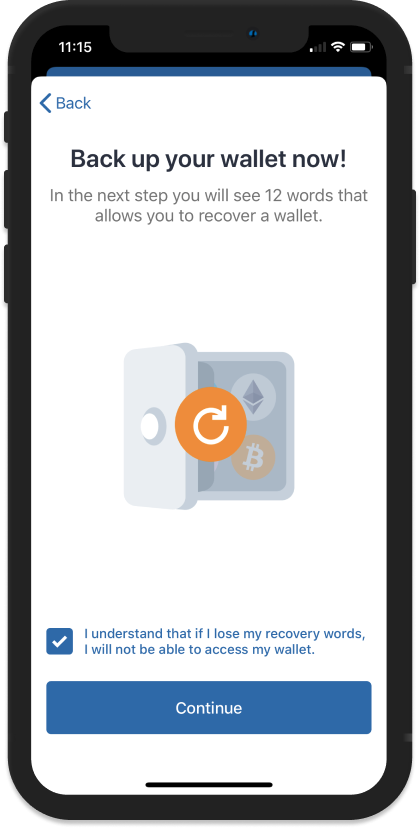 3. Save your Recovery Phrase
This is the most important part of your crypto journey. You need to take note of your recovery seed phrases. Your recovery phrases are the keys to your crypto wallet. So make sure to keep them in a safe place. Tap on Continue to proceed.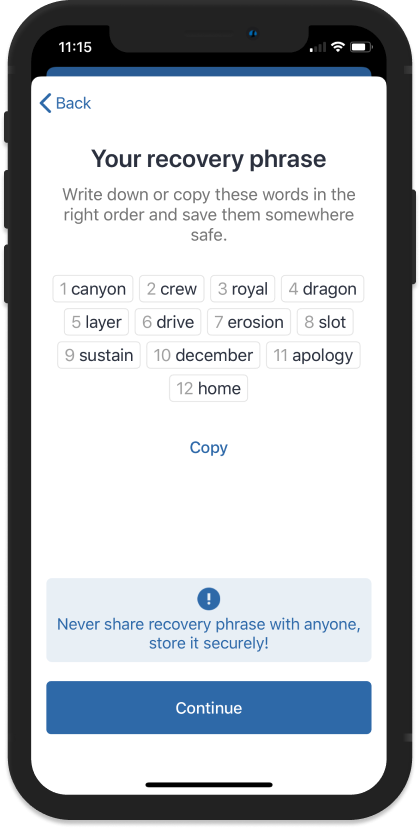 4. Verify your Recovery Phrase
If you followed Step 3 and backed up your recovery phrase, this will be a breeze.
In the correct order, select the words in order to complete the verification process. Click Continue when you are finished.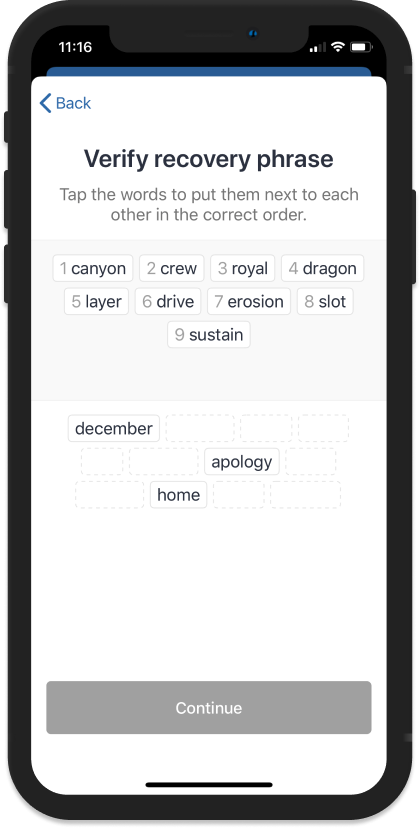 5. Wallet is Ready
After going through the backup and verification process you will be redirected to the main wallet screen. You will see an initial list of coins that you can start funding right away. Congratulations!
Personalize Your Wallet
You can set the name of your wallet so that you can easily recognize it. This change is only a local setting on the app and can be changed at any time.
Go to the Settings menu, then tap on Wallets.
Next, tap on the i symbol beside the wallet that you want to personalize. Save it and you are done.
Note:
Also on the same screen, you will see Show Recovery Phrase. You can always go back here if you want to get your recovery phrases.
How to Install and Register a Trustwallet Account
Open the Play Store and search for "Trust Wallet".
Click install and wait until the application is finished downloading and will automatically be installed on your smartphone.
After the process is complete, you can directly register a wallet account by clicking Create New Wallet or clicking I already have a wallet if you have had an account.
Next, you will enter the legal section which contains the Privacy Policy and Terms of Service. Just check the box I've read and accept the terms of service and privacy policy at the bottom left and click continue.
After that, you will be in the Back Up Your Wallet Now section. Immediately click I understand and click continue.
You will get 12 words which are called recovery phrases. Take notes, take photos, copy paste, or screenshot the words you get. Recovery phrases are very important and serve as a prerequisite for logging into a Trust Wallet account on other devices, so make sure you take notes or take photos of them. Then, click continue.
Enter the recovery phrase that you got earlier. Make sure to sort the words according to what you got.
If you have done all of the above, congratulations, you already have a Trust Wallet account and are ready to use it to store your crypto assets.
That's an easy way to install and register a Trust Wallet account. By having a digital wallet account, you can easily store crypto assets, from coins to NFT.
Can I Create Multiple Wallets?
There is a limit of 15 wallets that you can create on the app. Here are the steps to do so.
Open Trust Wallet  and then tap on  Settings . In the  Settings  screen, tap on Wallets .
Tap on the "+" sign  on the upper right to access the Create/Import a Wallet Screen. Go back to Step 1 of this guide to create a new wallet.
How to create trust wallet account. New on trust wallet? Searching for the registration tip? This video guide you through the step …